kitefestival thailand 2002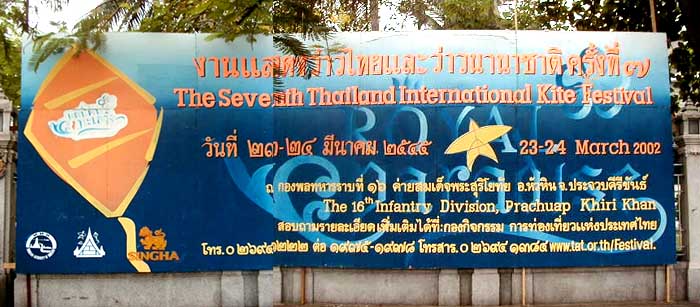 heading to the "kitec underwater-kite workshop" in the gulf of thailand we stopped
in bangkok for some aerial warmup with the thai kitefliers.
unfortunately we had no time to meet the thailand kitefestival at hua hin, the
"royal paradise beach" - but very fortunately we could meet the national
kite and fighterkite challenge on the sanam luang place in bangkok.
the national kite challenge was held from march 08 until march 20 in front
of the royal palace.
page 1
march 07, 2002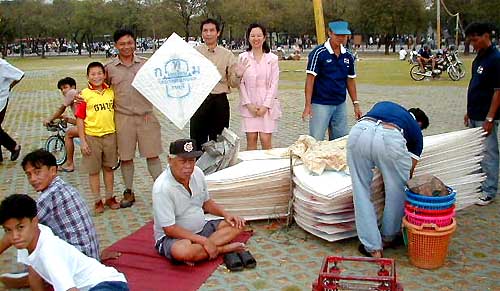 bangkok kiters with "pakpao" and "chula" kites
lucky surprised : arriving at the sanam-luang place, we found that a large
kitefestival was going to start with the next day!
on march 07 there were already hundreds of kitefliers
for testing, training and warmup.
and, so did we.


a quick arranged international kitefly workshop with schoolboys and teachers.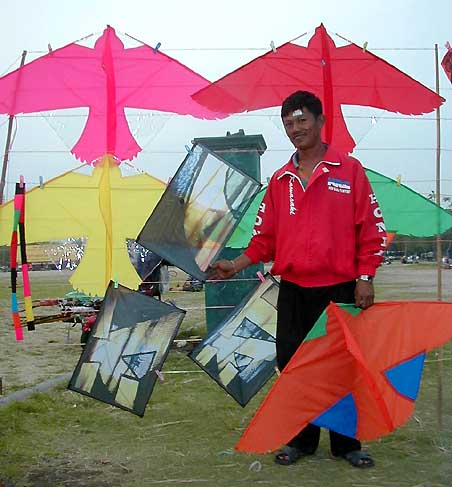 screenies meet bird-kites at a thai kite-booth.
red bird , top right, is now property of and
flown by ramal /zoone ;-)
| | |
| --- | --- |
| details of the chula kites | |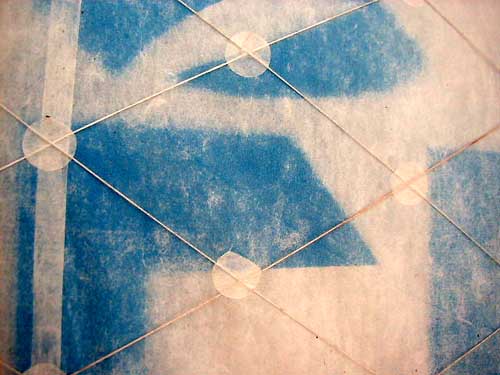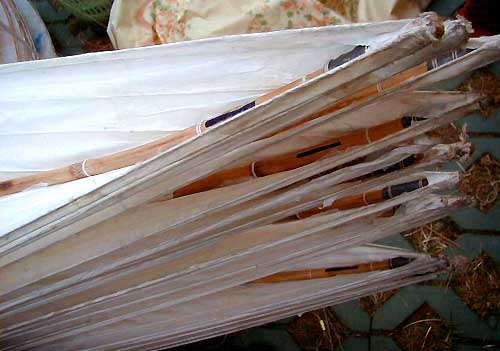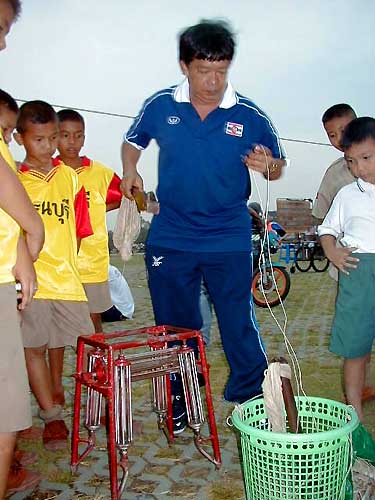 thai kiteflier demonstrates handling the lines of chula
go to page 2 - march 08, 2002
---
&
L I N K S
Thai Kite
The Thai Traditional Kites Festival 2002
Organiser : Thai Sport Association
The competition will be at Sanam Luang till March 21
and then move to Huahin for final compete.
more info Thailand Kitefliers Association
NEW pages !
including : photo of the KING with a kite !
NEW : About Chula+Pakpao Teamkites
---
link : scuba-kite workshop march 10-19, 2002
link : events & festivals
link : thailand 2001 kite-tour
link : report about huahin kitefestival 2002 by dancing frog
---