indiaTimes, Hyderabad jan.15, 2004
" Foreigners turn their back on kite festival "
IndiaTimes jan12, 2004
"Celebrate... but with compassion"
controversal background of natural problems with mass-kiting
Ahmedabad newsline jan.10 2004
Uttarayan's going to be a 'different' affair
Times of India jan.09 2004
"Kites fly high, but spirits are low.."

NavhindTimes jan.08 2004
"Three-day kite carnival at Miramar from Jan 16.."
IndianExpress Jan.08 2004
"Students get Patangotsav invite.."
"State government has asked schools and colleges to send 50 students each from their institutions for Patang Utsav during January 12-13.
The students have been asked to take part in the inauguration session, where Chief Minister Narendra Modi will be the chief guest. The students will be given kites and threads at the festival.
'This is not for the first time that such a directive has been passed by the Education Department. Earlier, schools had been asked to take part in 'Gaurav Yatra' and 'Viranjali Yatra'. Chief Minister Modi is using schools and colleges to gather crowd,'' said the managing trustee of a reputed high school in the city.
He said that the schools had been asked to bring their students at 7.30 am and the district education officer (DEO) had scantioned Rs 8 per student for refreshment. He said the DEO had asked them to give 50 grams of namkeens and four glucose biscuits to each of the students who would be present from 7.30 am till afternoon.
A principal refusing to be identified said, ''We have decided that we are not going to send our students. If the government wants to take action, let them take. We had a bad experience during 'Viranjali Yatra'. The students were made to stand along the road from 5.30 pm till 9 pm.''The principal of a science college said: ''I have to talk to my management, but I am sure they would not permit it as our students would not be willing to go.''
IndiaTimes jan.04 2004
Kite-makers not high on 'Pantagotsav'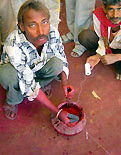 photo live from ahmadabad [©thijo]
Business-Standard, Ahmedabad Dec.26 2003
"...The celebrations scheduled to be held from January 12 to 14 will include an international kite festival, convention, seminars and cultural programmes. A book and documentary film on kites and the people involved in the sector is being prepared, which will be released during the festival. The book and film will cover a brief history of kites, the manufacturing process, the craft persons, the economy and the social harmony it generates.. On January 14, the NRGs will participate in the kite flying from the roof tops.."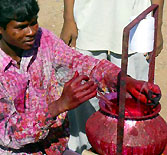 photo live from ahmadabad [©thijo]
Business-Standard, Ahmedabad Dec.26 2003
" The Gujarat government is looking at framing a policy for the economic development of craftsmen, including kite makers, and for the betterment of the industry as a whole. .."
Business-Standard, Ahmedabad Dec.24 2003
" A festival for sustainable development
A fortnight-long extravaganza in Jaipur hopes to build popular support for heritage as an economic activity .."
HindustanTimes.com Dec.24 2003
"Kites to carry message of peace"
Express.India Dec.24 2003
"Kite-flying leads to clash, one injured.."
Express.India Dec.21 2003
"Uttarayan claims its first victim; 12-yr-old run over -
THE Festival of Kites is a month away, but it has already claimed its first victim. The craze for kites proved fatal for 12-year-old Raju Thakore. A resident of Bhamariya Na Chhapra slums in Sola area, he had been chasing a kite with two of his friends when he was crushed under a goods train on the railway line passing through the area on Friday. A student of Std IV, Raju lived with his parents in the slums along the railway line. .."
Times of india Dec.18 2003
"Kites in a new make fly high to fetch fame"
Hindustan Times, India Dec.17 2003
"Sky is the limit at the kite festival in Ahmedabad"
""I feel kites can be used as a very attractive option of advertising media.
What is needed is the marketing of kites," said Naval K Bhargava, who teaches at the Mudra Institute of Communications (MICA)."
Ahmedabad.com Dec.17 2003
"Modi espouses passion for kites -
Chief minister Narendra Modi said here that the state government will activate a technology mission for the maximum growth of kite industry and make the state an international centre. .."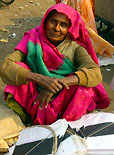 photo live from ahmadabad [©thijo]
Ahmedabad.com Dec.17 2003 - "Government aims sky high for kite industry"
Express.India Dec.16 2003
"Sky's the limit, says Modi but for kite-makers, it's wait and watch."
IndiaTimes 16.dec 2003
"Gujarat to support Rs 100-cr kite industry"
Hindustan Times, India Dec.15 2003
"Global NRI Gujarati meet to coincide with Kite festival"
"THIS was a workshop with a difference. A meeting point where humble kite and manja makers and retailers rubbed shoulders with ministers, senior government officials as well as faculty of National Institute of Design and Mudra Institute of Communication for an "exchange of ideas". The one-day workshop at Gandhi Labour Institute, inaugurated by Chief Minister Narendra Modi on Tuesday, was aimed at giving a fillip to the Rs 100-crore kite manufacturing industry in the State. Speaking on the occasion, Modi said, "The way Sivakasi (in Tamil Nadu) has become a global market for fire-crackers, Gujarat has a tremendous potential to emerge as a global market for kites." Modi talked on various aspects of kite-making like procurement of bamboo, branding and packaging system said efforts should be made to "make kite-flying a habit" at international level."
Times of India Dec.13 2003
UNIQUE child rights drive on Jan 11
In an innovative initiative, those participating in the campaign — which
will coincide with the Sankranti festival — will fly kites all over the
states. ...

Ahmedabad Newsline Dec.12 2003 "Govt flies co-op kite for industry"
"A top source in the CMO told Ahmedabad Newsline on Thursday that there was tremendous potential for the kite-manufacturing industry in Gujarat. But, since it has been an unorganised industry for ages, it is not developed fully, with thousands of job workers still being "exploited" by contract manufacturers. .."
yahoo.india Nov.28 2003
"Essar to foot kite festival bill.."
tourism-of-india about ahmedabad kitefestival
italian webpage by settimo cielo aquilonisti
Links: Past Kite-Events Gujarat
Ahmedabad.com about Kitefest 2001
kitefest 2001 by niraj shah
kitefest 2002 by gujuland
photo 2003 by karl stiller
south.asian.com about gujarat kitefestivals
Environments Gujarat / India
SILVASSA kitefestival india 16-17 jan 2004
MUMBAI kite flying 14.jan 2004
Makar Sankranti on the Chowpatty beach
GOA kitemeeting
> navhind.times by jan05.2004
Jodhpur Desert-Kite-Festival > 2005
Jodhpur Kites - Sun City Kiteclub / asghar belim
gujarat desert kitefestival photo.web 2001 by martin skoog
project.FLUGROST transcultural cruise India - postponed to 2005 .