Da Nang Area
Hoi An
Marble Mountains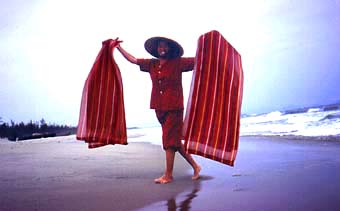 1998
Da Nang
Dirty, crowdy, centerless, unpeacefully. Nothing to do there.
Go 15 km south to Marble Mountains and you think you are in Carrara, Italy! See hundrets of sculptureres working there with marble and other stones in all dimensions, go visit caves ( for the "official" cave you pay d50.000 entrance but there are much more caves...)
If you find the pagoda, please say best greetings from tom and matia, and please visit their holy buddha caves, and don't forget to pay your guide (about d5000 for a tour, if ok plus a free drink)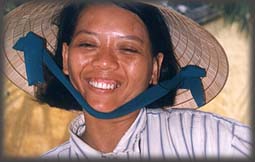 Hoi An
Very smooth and nice. Calm and quiet. Hundereds of tourists and travellers walk there and buy and buy and buy... unbelievable big bags filled up with clothes (because most stores are tailors there). But they also have five other sorts of stores there! (hundreds at all!)
Nice bar is "peace cafe": small, vietnamese style, pool-billiard, sound, not too clean, not too expensive, and the best beer we found there! ( Khue Trung Beer from Da Nang 4,5% pay d7000 for small bottle ).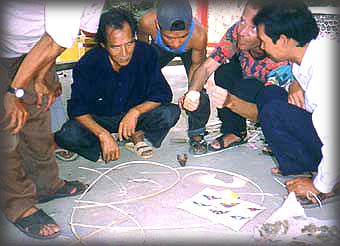 kite workshop with buddies
(buddhists) at marble mountains
'china beach'
Hoi-An and Da-Nang Area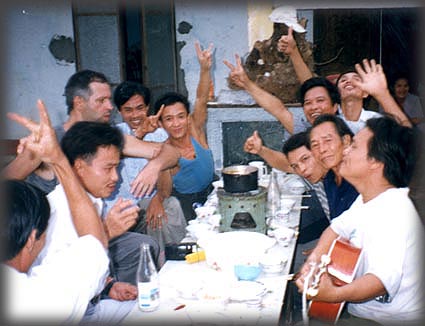 spontaneous original aboriginee after work party..
nevertheless, REAL fun.
recipe for original vietnamese party:
- need friends and a place
- check for some rice-brandy ($0,50 per litre)
- make original vietnamese food from rice-paper, hot fish-sauce,
buffalo meat and a lot of vegetables
... and start with the music!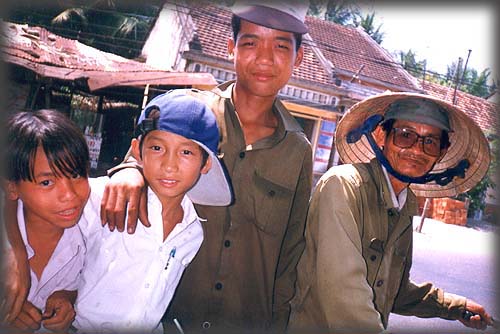 hello from QUI NHON
we were on transit from NhaTrang to HoiAn with
'Sinh Cafe Tours' when we had a traffic accident.
our bus hit a 10 year boy who suddently jumped on the street
just in front of our bus. the bus (about 50 seats, half full) was droven
by a 'Sinh Cafe' driver and making some 40kmh on the highway.
the highway #1 is the main connection going from north to south
or otherwise. that means people find most jobs along it. so you have most population
beside the highway, a huge part of all the 1500km is covered with urbanisation,
often no villages, just huts. the people beside integrate the highway to a very near and main part
of their daily life: they live, work, relax and sleep close to the pavement.
above picture shows people living on the side of the highway
near the town Qui Nhon.
After the accident. First the driver disappeared, we suppose for to check
with the police. The body of the boy, who was badly hurt, was picked up by a local man
and they went to a hospital on the back of a honda.
our disappeared driver was the only one around who knew a few words in
'western' languages. police came very quick, no explanations to us,
we had to wait there some 2 or 3 hours (picture above). then we were
transferred by an unknown driver to Qui Nhon town, where we had to wait
3 more hours without explanation. our idea, to make a collection for to help the hurt boy
was cancelled due to our lack of information (whom to give that funds would flow
into the right channel..)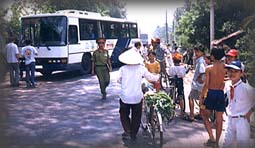 So - be careful ( pray ) whilst bus travelling with all buses in vietnam.
conditions are dangerous. we saw many accidents around us,
and travellers in hanoi said that they noticed a fresh bus wreck at the
'pass of clouds' just one week after we crossed the mountains.
other voices said that several travellers died it that bus (april 98)
no information was available upon request from
authorities in hanoi..
...someone knows more?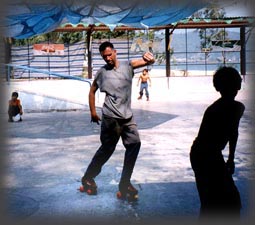 waiting for lift off at qui nhon skate park!
wheew - crazy futuristic..
---
Ha Noi
Sapa
Hue
Nha Trang
Da Lat
Sai Gon
Mekong Delta

April MIIM