One sky. One world.

One day: 13 oct 2002

photopage 1

arabia, asia, oceania
---

AUSTRALIA


TASMANIA
Spring in Tasmania but still cold and windy. My Osow project for today.
"White Doves of Peace Train" over stormy skys. 16 kites in the train to add to the world list.
Robert Brasington



QUEENSLAND

---

SINGAPORE

Here is a pic from Singapore.
Wind condition was rather poor and only a few got airborne.
Attach is another pic of Tan SeeLiang featherlight bird train.
Rgds from all of us in Singapore

---

JAPAN


It also sends One Sky One World this year.
From Hokkaido challenge in Obihiro

Japan Hokkaido
---

United Arab Emirates UAE

Short flying session just before sundown in front of the building site of the Grand Mosque in Abu Dhabi, United Arab Emirates. A local guy took the picture of me flying a Beijing Eagle. Keep it UP! Andreas Agren, Sweden

CAMBODIA
Phnom Penh OSOW kitefly

khmer kite OSOW 2002 webpage

---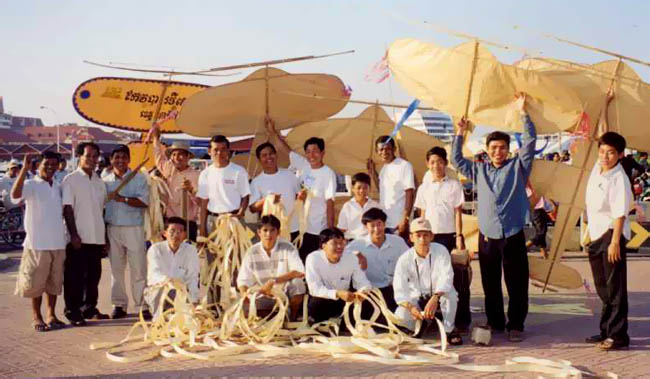 | | |
| --- | --- |
| | |
| | |
| --- | --- |
| | Malay kites fighting in front of the malaysian Twin Towels |

---

KUWAIT

OSOW... assembling a Genki in the middle of the Kuwaiti desert.

---

INDIA

... the numerous kites that were flown over Priyadarshini Park on Nepean Sea Road, during the celebration Kites for Peace, at the weekend. Citizens, young and old, joined in the festival that was organised .. to spread harmony, understanding and religious tolerance. ''In the sky there are no borders that could divide people,'' said Ajay Prakash. ''It is a truly free place where we can let our souls soar with our kites.''

report yahoo-india | announcement India Times | web to follow...


---

ISRAEL

---

NEWZEALAND

The Day started off with light rain in the morning so it didn't look as if we where going to get many people to come and fly for the OSOW kiteday. Around 12 o'clock the weather turned out ok. So we went down to the local flying field and started to throw some kites in the sky. It wasn't long before the crowds showed up and more kites started to fill the now blue skies with color. This was great considering Blenheim is a very small town. The wind was a little strong for the small kites and most of them got blown to pieces. It was great to see that the children came out and participated at the same time supporting the event. I spent a lot of time being kite doctor, but that is all part of the fun. There were lots of people that just came along to view the spectacle. The large NZKA teddy bear was the highlight for most people. At around four o'clock the rain made it's presence felt once again, so this was a good indicator to pack up and go home, to reflect on an otherwise great day. Regards: Robert van Weers

Photo : scource : The marlborough express (local newspaper)
---
One sky. One world.

One day: 13 oct 2002

photopage 1

arabia, asia, oceania
to : OSOW mainpage [subvision]